I successfully completed the 2003 Treasure Island Triathlon (Sprint). Not only did I finish, but I didn't hurt myself and I didn't come last!
Pre-Race
Sundays are usually NFL football day for D, but he gave it up to watch me race. We loaded up the car at 6:45AM and headed over to Treasure Island, arriving just before 7:00AM. In the middle of setting up my transition area, we heard the first wave of competitors start at 7:15AM.
The person who finished first in that wave swam without a wetsuit. He threw on some clothing and was in and out in a flash.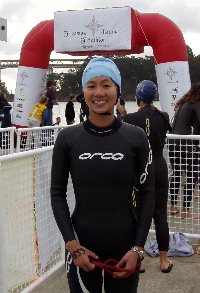 Meanwhile, I was arranging all my stuff in neat pile like Shannon had demonstrated on the day of our trial run. It tooke me a long time to put on my wetsuit because I wanted to make sure that it wasn't bunching up anywhere. I've spoken to swimmers who have neglected to pull their wetsuits all the way up, and they say that it not only slows you down but it's painful to work against the extra resistance.
Other ladies from the Embarcadero Y Women's Tri Club were located near me. They looked excited, but not nervous. Not like me. I was dreading the event because of my performance in Tri for Real. Granted, I had kicked up my training since then, but I still lacked confidence.
D & I went to the water edge to see what the start was like. The organizers, TriCalifornia, had built a ramp down to the water so we didn't have to climb down the rocks. In the water, there was a crude metal structure with lane numbers marked on top. Swimmers were supposed to spread out over the lanes at the start. We watched the last men's wave, men 45 and over. They were easily identifiable in silver swim caps.
A few minutes into the swim, I saw a guy in a silver swim guy run to the water's edge with his wetsuit half on. I nudged D and said, "That guy missed his wave!" The announcer noticed the latecomer too, and prompted the crowds to cheer for him.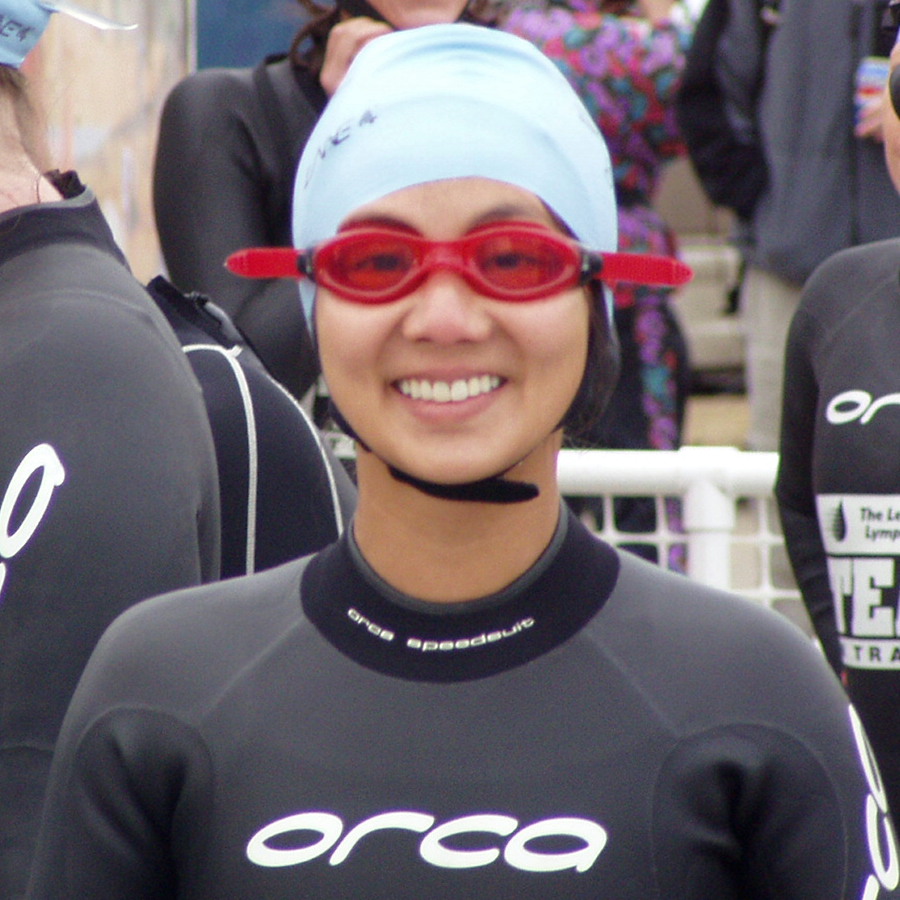 The person who won the Escape from Alcatraz Triathlon earlier in the season was in ths age group. D said he's a Chinese guy: Brian Fong. He swam like a barracuda. He had already turning around the second buoy when most of the pack were just reaching the first.
I paid more attention to the midpackers because those were the folks I could relate to. Some of them were struggling. I admired their battling spirit and perseverance. They ploughed ahead, undaunted. D pointed out one guy who flipped onto his back halfway towards the first buoy to do backstroke. That's a great trick to use if you get tired or nervous in open water.
Around the time Brian Fong finished the swim, we saw one of the safety boats come to shore with a swimmer hanging on at the back. It appeared that the competitor was unable to finish the swim and was being led back to the transition area. I felt bad for him.
I was still wearing flip flops, and considered leaving them in the transition area because everybody else was barefoot. After dropping them off, I changed my mind and went back to get them because the ground was too cold for me to walk on.
I was gone a long time so D started to worry and came to look for me. He found me in a distraught mess. I was crying. "What's wrong?" he asked. I can't remember what I said exactly, but the gist of it was I was really worried I'd suck and come last. He reassured me that I'd be fine because I had trained so hard, this was my first triathlon so I shouldn't stress out, and it was supposed to be fun! "Okay," I mumbled.
The Swim: 500M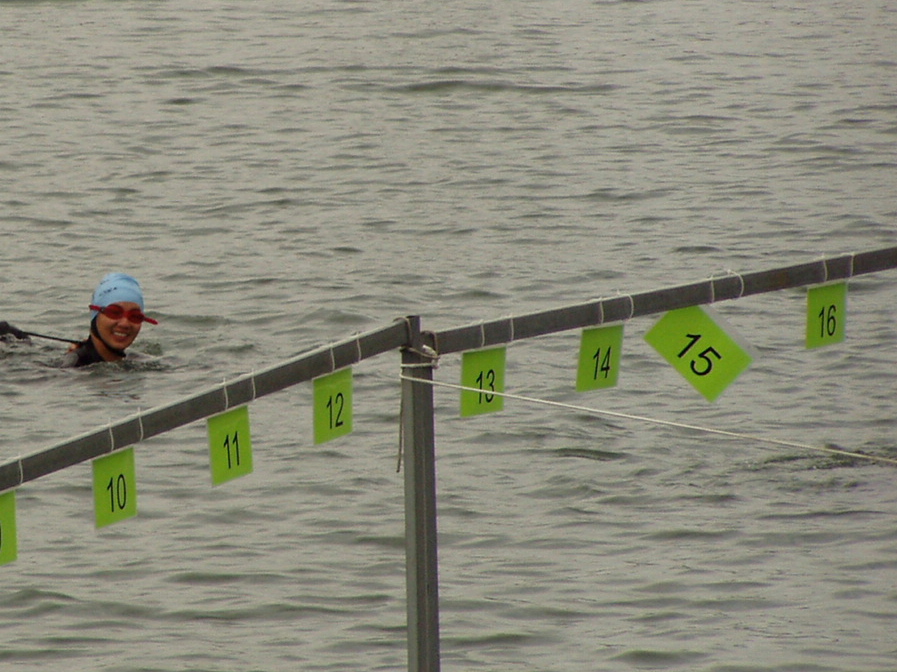 Five minutes after the wave ahead of us started, we were allowed to enter the water to warm up. Much as I dreaded the cold water (an inviting 58F -- not!), I was the third person to get in. As soon as I took some strokes, I knew I'd be okay. I wasn't going to panic which was half the battle.
Our tri club coordinator, Shannon, was our starter. I stayed at the back of the pack, and once the horn sounded, I took some leisurely strokes and focused on form: high elbows, rotating core, exhale the whole time my face was in the water. Since we were swimming in the cove, there were no waves or chop. Thank goodness. I still managed to take some gulps of water though. Gross. Before long I had reached the first buoy and started to have fun.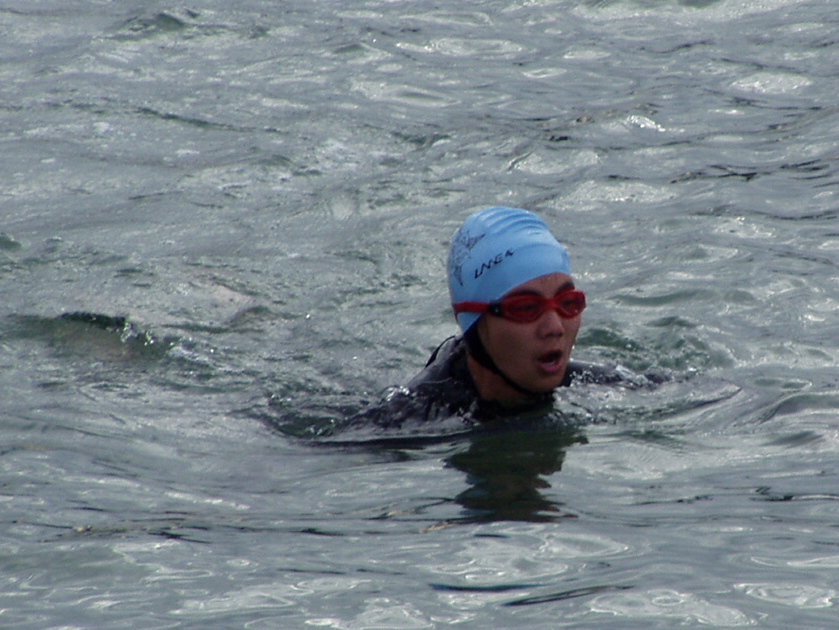 On the third leg of the swim, I got a little off course and swam on the outer edge of the pack. That was annoying because it meant I was swimming much further than I had to. I took a few strokes of breast stroke to regain my bearings and continued. I was also getting tired at that point but chugged along. 25M from shore, I lifted my head to see D shouting, "Almost there!". I made a final push towards the swim exit.
T1: Swim to Bike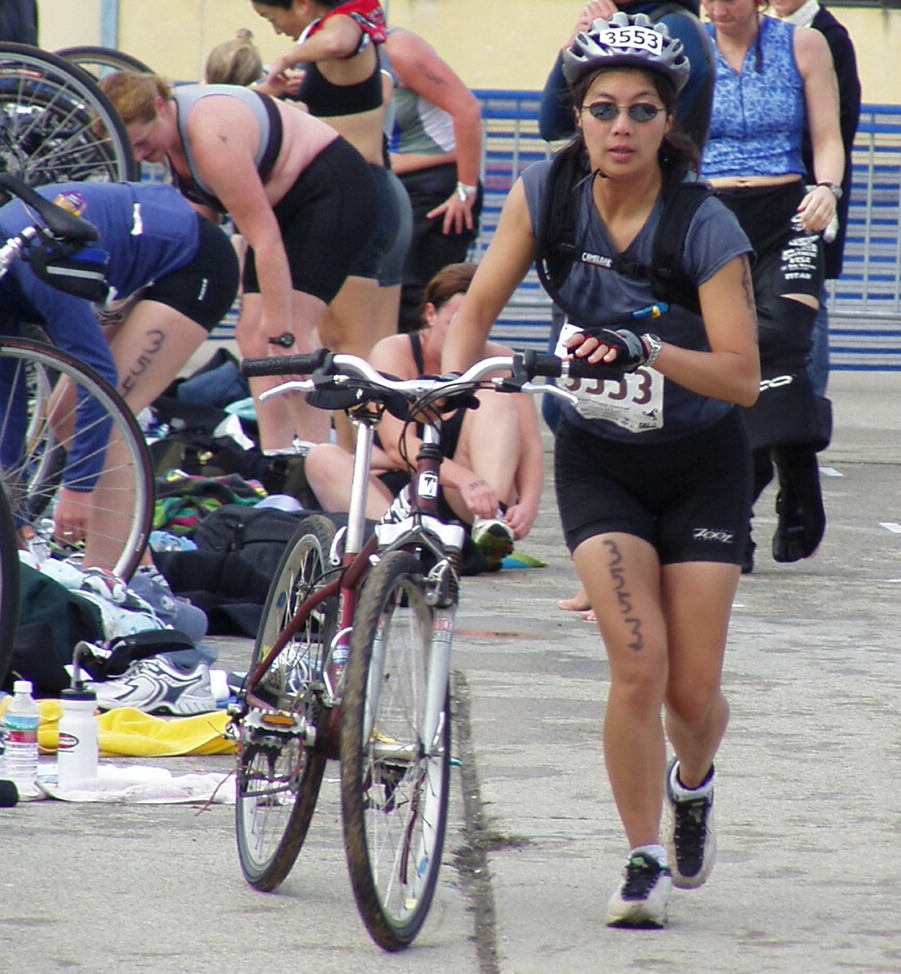 There were volunteers there to help me out of the water and up the ramp. I put on my flip flops and jogged back to the transition area, sipping some amino drink I was handed. It tasted pretty good - kind of like lemonade.
Shannon had warned us several times that our hands would be very cold after the swim but I was still unprepared for the stiffness in my fingers. I pulled off my wetsuit down to my calves and lost my balance when I tried to step on it to get out. I fell on my butt and laughed. I wasn't hurt, just slightly disoriented. I fumbled with all my gear, taking particularly long to put on my cycling gloves (now I know why Shannon didn't think it was worthwhile to wear them for such a short race) and buckle my cycling helmet. I ran my bike out of the transition area, zig-zagging all over the place.
The Bike: 25K
The reason I have not blogged about cycling in the last three weeks is because I haven't cycled in the past three weeks! I had all but given up on cycling. Fortunately I had the good sense to inflate the tires the night before (actually, D did it for me since I'm not strong enough even to use the floor pump). I also tooled around the parking lot for about 10 seconds that morning to make sure the saddle height was okay. That was it. The cycling part of the triathlon was going to be a complete wild card.
Thanks to our race preview, I was familiar with the course. That helped a lot because I knew all the turns. As expected, I was passed by quite a few people, particularly roadies. I was okay with that because they were riding lighter and hence faster bikes. Then a woman on a mountain bike (mtb) passed me. That pissed me off. I wasn't angry at her, I was annoyed at myself because she had dispelled my "heavy bike" excuse/myth. If she was able to crank on her lead treads, then I should too.
I pumped my legs while in my hardest (fastest) gear, but I was still pretty slow. I would gain on people during the straights, but then slowed down to corner. I know, slowing down before a corner is probably the worst thing to do, but I couldn't fight off my instincts. There were lots of corners on this course too. 22 turns per lap - and we had to do 3 laps!
My first lap was a throwaway because I was cold and was rediscovering how to ride a bicycle. That's what happens when you stop riding for weeks on end. I saw D stretched out on a lawn chair taking photos as I went by, cheering me on. It was really nice to see him there.
My second and third laps were much faster. Or that's how I perceived them anyway. Amazingly, I passed 3-4 people on the bike ride. One lady was just cruising along like she was on a touring ride. She looked like she was having lots of fun.
I couldn't wait for the bike portion of the triathlon to be over and I was thrilled to finish it without falling. D said that I looked great while I was riding. It was "night and day" seeing me ride the mtb versus the road bike. He was amazed at how fast I was going and said I was about the same speed as most of the other women. He thinks that I ride the mtb much faster than my old road bike. Sad and completely counterintuitive, but true. Because of this, I'm tempted to buy a hybrid to race but I really need to learn how to ride a road bike at some point. Maybe I'll just get one with a less aggressive geometry to make things easier.
Post-race note: When we got home, D noticed that my front tire was completely flat. I don't know when that happened. I wonder if I was racing on a flat tire for the last part of the race?
T2: Bike to Run
I already had my running shoes on so I just racked my bike, threw down my helmet and started running. I kept my gloves on for warmth and my Camelpak for hydration. I looked like an adventure racer, not a triathlete! I must have looked quite silly.
The Run: 5K
The run was an out and back 5K. 5K is short compared to my regular races, but it seemed much longer after swimming and biking. I noticed that my toes were numb. Maybe it's because I jammed them into the toe clips. They didn't warm up until a mile into the run.
I passed a few slower people and for the first time in a triathlon, I was passed by somebody. One was a woman in my age group who floated by effortlessly. The other was a woman in the age group behind me. Considering she started a full 15 minutes after my wave, I was mighty impressed.
On my way back to the finish line, I saw a couple of people on the first half of their run: Stephanie Vollmer and Karen Townsend. Both were in the wave behind me so they were doing very well and looked great. We all screamed words of encouragement to motivate each other. It was pretty funny.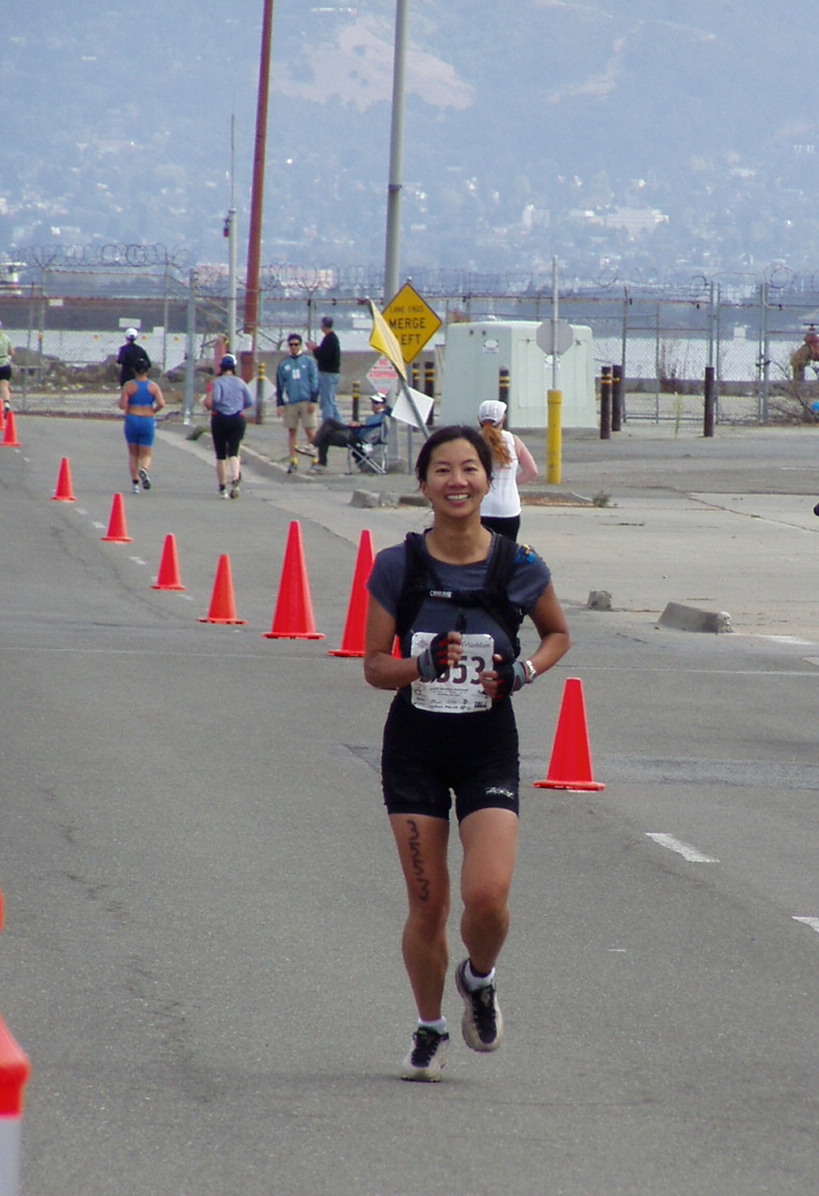 I wanted to sprint when I reached the final straight, but I couldn't move my feet any faster than they were already going. That's when I saw Shannon & Co. cheering me on, as well as a few other friends we randomly ran into the day before at registration. D was also there snapping pictures of me.
When they announced my name at the finish line, I felt like a champion. On top of that, I was given a medal for finishing. It's kinda ugly but I'm still very proud of it. I ran into D's arms and he gave me a big hug. That's when I started crying again. I cried because I had miraculously accomplished all my goals. I finished (1) injury free and (2) somewhere in the middle of the pack. I couldn't believe how well I had done.
My Results
Since we all wore timing chips, the timing information was automatically collected electronically. Even so, I was surprised to see my race results posted that same night:
2003 Treasure Island Sprint Results

| Event | Time/Speed |
| --- | --- |
| Class Rank: | 48 out of 72 |
| Overall Rank: | 406 out of 538 |
| Gender Rank: | 173 out of 266 |
| Total Time: | 01:36:59 |
| Swim Time: | 00:15:03 |
| T1: | 00:03:39 |
| Bike Time: | 00:50:53 |
| T2: | 00:00:53 |
| Run: | 00:26:31 |
| Swim Rank: | 424 |
| Swim Speed (min/km): | 00:30:06 |
| Bike Rank: | 477 |
| Bike Speed (MPH): | 14.6 |
| Run Rank: | 272 |
| Run Speed (min/mi): | 00:08:33 |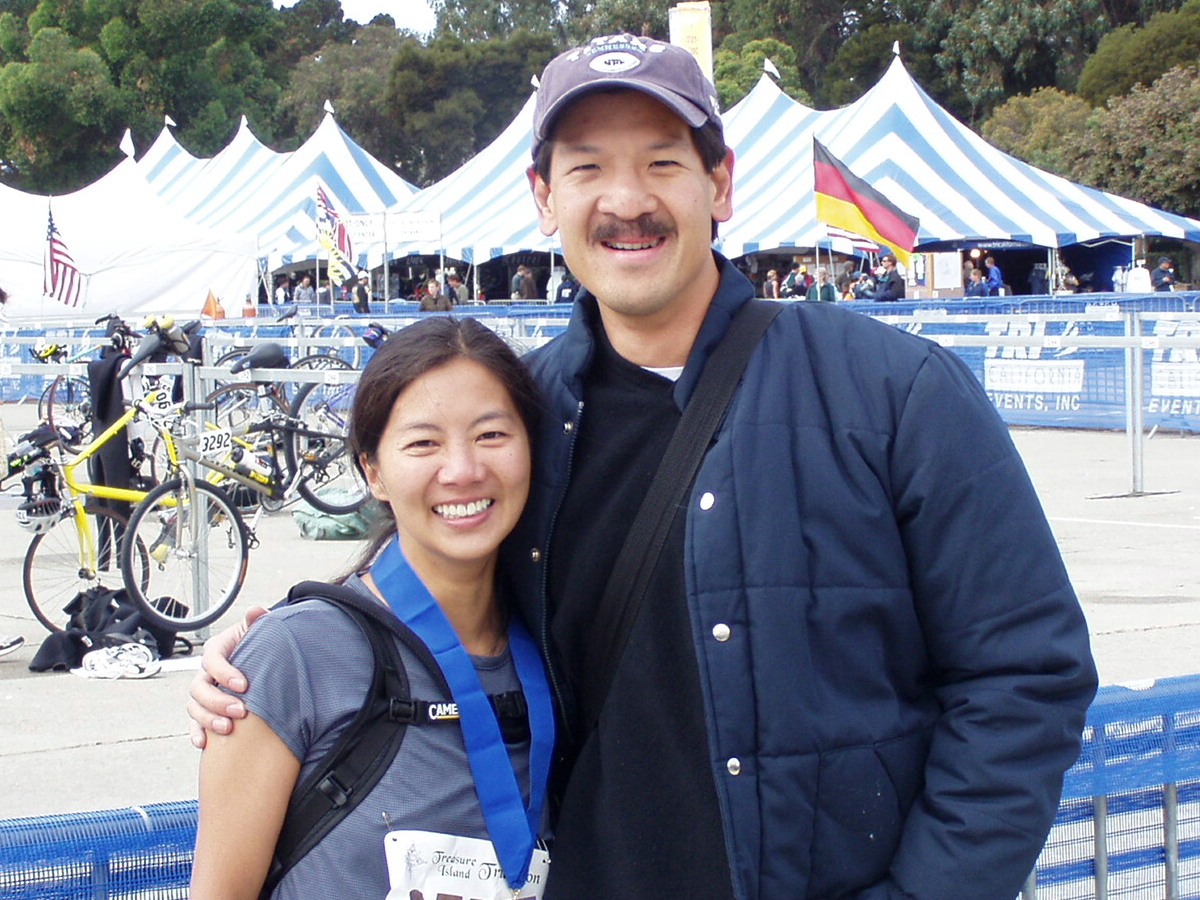 I never thought I'd say this, but I'm looking forward to doing the same race again next year because I know I can do so much better. D says he'll do it as well which will be lots of fun. D's great. I really appreciated his support on race day, but I couldn't have succeeded if he hadn't supported me throughout the season as well.
Here's to another season of triathlon!